Door Paint
Why Choose us for your Door spraying? Price Match Promise. 10 Year Paint Guarantee, No Flaking Paint or Cracking, Colour of your choice for your painted upvc front and back doors. UV Protection. SafeContractor Approved.
UPVC Door Spraying
Spray Tone Coatings can spray paint any type or style of door, this includes both internal and external doors. Depending on the substrate of your door we'll use only the best door paint on the market. All the paints that we have sourced have a warranty of 10 years. If you are bored of the colour of your door rather than replacing it why not respray it, ensuring you get a factory finish door paint. If you want to change the front door colour of you door than why not choose from our wide range of RAL, BS or take advantage of our colour match service.
Our upvc front door paint uses the latest technology, bonding to the surface, rather than sticking to it, allowing it to flex as the plastic expands and retracts through the seasons. This means it won't crack or flake.
We are experts in the field of on site door spraying, our jobs have included spraying blast and radiation doors for the MOD, internal doors for Harrods in Knightsbridge and large four leaf doors at the TATE Modern in London. All of which you can see on our gallery.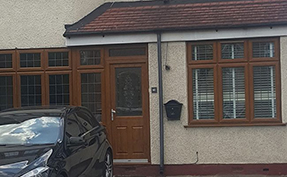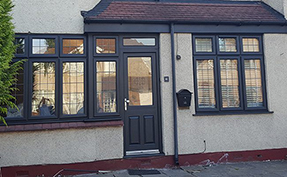 Oak Door Spraying
Spray Tone Coatings can also spray oak and wood doors to a factory finished coating on site. The paint that we use is very hard and durable. It's the same paint that we use on all the power doors in large supermarket stores and high street shops. The paint needs to be able to with stand knocks and scrapes.
We can match to any colour of your choice, be it Farrow and Ball, Dulux or Little Green. Contact us for a free no obligation quote to have your door spray painted to a factory finish.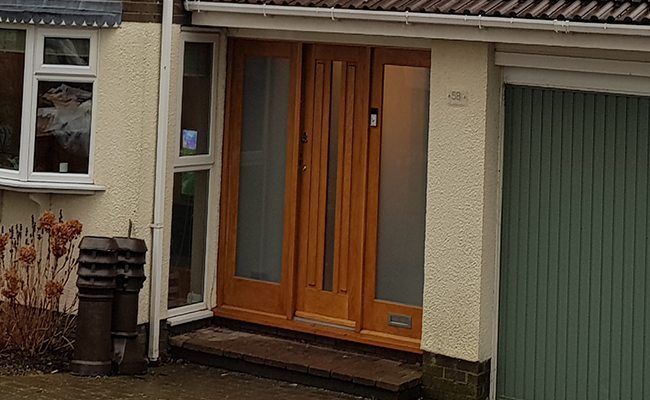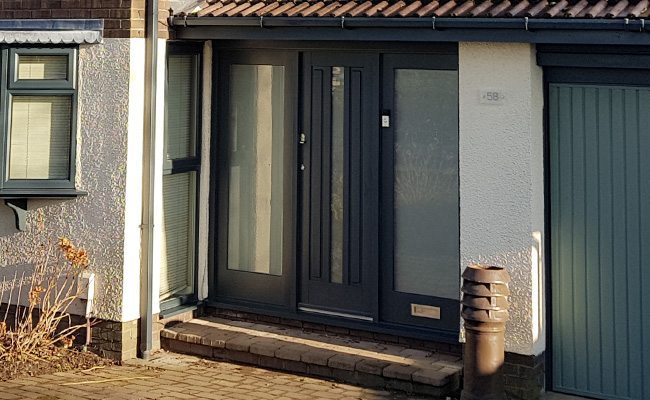 How do you paint Doors?
It's a simple process……
Can you Paint UPVC Doors?
Yes, Take a look at some of our recent work……